Housebuilders are often responsible for managing the properties they construct and let's face it - mistakes can happen. If you were to move into a new home and find a fault with the windows, a certain fixture that isn't fitted properly or discover the heating doesn't work - you'd want to voice your annoyance.

While your company undoubtedly has a formal complaints structure in place, consumers in virtually every field are increasingly opting to abandon these routes in favour of venting their frustrations on online channels like social media.
So what can housebuilders learn about handling online complaints from the failures and successes of others both within their sector and beyond? In this article, we'll find out.
Trends and Tactics
Modern efficiencies have done wonders for complaint handling, with companies setting up iron-clad processes to tackle and resolve issues as fast and competently as possible. However, the 21st century has seen a sea change in the way the average consumer operates.
The widespread proliferation of mobile devices and personal computers means people are online more than ever before and the increasingly ubiquitous nature of technology is somewhat unexpectedly allowing people to revert to more traditional and social behaviours on the web.
In a far cry from the somewhat dehumanising experience that being processed through the formal complaint route can sometimes engender, people can now reach out directly to companies via their own social channels and submit reviews on third-party sites like Yelp and Google.
And being opted-in in this way means it's becoming less and less of an option for companies to simply use online platforms as marketing tools or ignore them altogether. As Warren Buckley, managing director for customer service at BT, prophesised a few years back:
"You have to go where customers choose to go. It is hard but you can't stop this journey."
Listen and Learn
As with many endeavours, a failure to plan is a sure fire plan for failure. Before you put pen to paper on any sort of strategy or tactics, it pays to conduct research. Do an audit of your assets and be as objective as possible in ascertaining what's currently being said about you in what ways and on what channels.
If you're entrenched in a business, it can often be hard to distance yourself from your own experiences, so if budget permits - it could be well worth hiring an agency or utilising a relatively new member of marketing staff to size up the scope of your online profile.
Some key issues to pay attention include:
General sentiment toward your brand
What platforms are customers using to talk to and about you online
What resources you have available to manage your online profiles
Do you have specialist staff or the ability to hire a specialist to administer your company's web presence?
What you'll be able to achieve in terms of customer service with the resources at your disposal
How quickly you'll be able to respond to online complaints and the volume you might expect to receive
Who are the influential individuals and publications in your sector?
Do you deal with such a volume of complaints that a separate support handle might be necessary?
How are your peers and competitors addressing these issues?
Role Models and Horror Stories
So who should you try and emulate and who should you steer clear from when it comes to using online channels as a customer service tool?
As more and more companies take their fledging steps into the online sphere, some beginner errors are bound to crop up. A few notable examples from recent years include:
British Gas: Anticipating a backlash over a price hike in late 2013, the company's marketing team thought it might be a good idea to field questions about the rising costs via Twitter - utilising the hashtag #AskBG.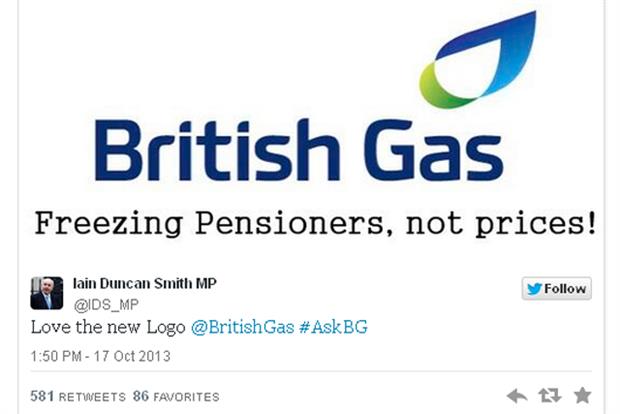 The questionable timing and negative sentiment toward the company became apparent as the flood of abuse poured in. Replies varied from scathing to sarcasm and detailed questioning of the policy decisions that had led to the price rise.
The Lesson: As Econsultancy suggested in its coverage of the event, some key failings of the exercise were the lack of concrete, tailored responses that the customer service team could provide, coupled with their inability to take action on any of the concerns raised.
Thomas Cook: Back in 2012, Thomas Cook was approached on Facebook by an unfortunate young man who happened to be named Thomas Cook. He pleaded for recompense for the years of ridicule he had suffered for sharing the name of the travel company.
The marketing team's response to the request was fairly bland with 'Lara' stating:
"Hi Thomas, Great to hear from you! Unfortunately we are unable to give away free holidays. Please see www.thomascook.com for the best available prices. Have a nice weekend."
However, the keen folks over at lowcostholidays.com were quick to pounce on the opportunities presented by the situation - expressing their sympathy for Thomas' situation and offering him and a friend a week in Paris by way of recompense.
The Lesson: While social media guidelines and policies are vital, it's crucial that they don't erode the human aspect of social media interaction - leaving your profiles as little more than an extension of your other, more formal customer service channels.
Metrolink: A US study found that 70% of companies refuse to acknowledge complaints posted via Twitter and it seems this trend isn't confined to businesses across the pond. While we've covered this in greater detail in other posts, Greater Manchester's tram system had studiously ignored online complaints about the unsatisfactory state of its service until it bowed to the publicity elicited by one irate customer's open letter.
The Lesson: Following the furore over its lack of meaningful social interaction, Transport for Greater Manchester opted to plough resources into social, even going so far as to arrange a Q&A session with Metrolink director Peter Cushing. While not everyone was satisfied by these steps, they were at least taken in the right direction and the service's commitment to social customer service hasn't wavered since.
Tesco Mobile: Tesco Mobile's care team was lauded for its inspired social media activity in 2013. As part of a strategy created by Jam, the brand turned heads and changed opinions through its #nojoke campaign.
The Lesson: The thing that differentiates the likes of 02 and Tesco Mobile from the crowd is the quality of their interactions. While automation can offer an easy and resource-efficient way to handle social, it detracts from the very thing that makes the field so attractive in the first place.
Not everyone can be as flippant or quirky as a mobile provider, but it's important to take interactions just as seriously and respond in kind. Be clear, be caring, but don't be condescending.
The Bottom Line
Social success is a mix of art, science and good old fashioned hard work. There's no silver bullet to fielding online complaints successfully, but practice makes perfect and it's not something you'll get better at by burying your head in the sand.
The customer experience is moving ever-more online and those who get a foot in the door now will be well-placed to reap the rewards and goodwill being involved can elicit.
Do you have any social media heroes you look up to or shocking stories you'd like to share? We're always interested to hear from you so don't be a stranger and drop us a comment below!
And if you'd like to learn more about social media or are simply looking to branch out your online marketing activities why not check out our free eBook designed to help housebuilders get to grips with the basics of online marketing and social media?
Images courtesy of SEO on Flickr, Mathew Chapman from Marketing Magazine and Ishbel Macleod on The Drum